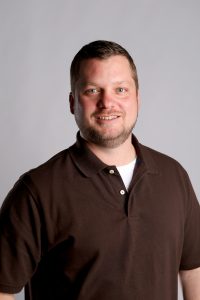 Brian Sugg began his asphalt career in 1995 when he was 15 years old, helping his grandfather perform projects in the Willamette Valley as a summer job. This work provided him an in-depth knowledge of the asphalt industry, and it inspired him to take that knowledge to the next level in college. Brian received a Bachelor of Science in Construction Management from Central Washington University in 2004, and then began his professional career. After five years working for construction companies in California and Oregon, Brian started his own company, Aegis Asphalt Sealcoating, in Eugene in 2009.
From passion to professional paving construction
Asphalt repair and pavement maintenance has always been a passion for Brian. While attending university, he was known to have a 55-gallon drum of sealer on hand to perform projects when the opportunity arose. After graduation, Brian's career began with Hensel Phelps Construction Co. in central California, where he worked on the construction of two hospitals with a total project value of $400 million.
After his second child was born, Brian and his wife moved to Oregon to be closer to their extended family. Shortly after relocating, Brian was elated to receive a project engineering position from Lease Crutcher Lewis on construction projects in Eugene, Oregon. These projects included the University of Oregon's NANO Science Building, HEDCO Building, Lewis Integrated Science Building and more. Brian's favorite project with Lease Crutcher Lewis was the creation of the $42 million EWEB Roosevelt Center in west Eugene.
An experienced construction manager in Lane County
With the slowing of the building construction industry in Lane County in 2012, Brian transitioned to civil construction, accepting a position as a project manager at Delta Construction Co. As a project manager Brian oversaw parking lot construction projects for the Springfield School District, the City of Springfield, Willamalane Park and Recreation District, and many more local businesses. The most memorable project for Brian from his time with Delta was the Springfield Mill Race Stormwater Facility Project and the Mill Race Path in Eugene.
Throughout his career, Brian has worked closely with owners, inspectors, permitting agents, subcontractors and the craftsmen and women who performed the work for his projects. This wealth of experience has made him a go-to resource for information on construction projects in Lane County, and Brian can tell you a story about almost every new construction over the past 10 years.
Dedication to business management and client services
In 2009, Brian decided to start his own business, Aegis Asphalt Sealcoating, and continued to work both for himself and for Delta Construction Co. until November 2017. Brian then realized that if he wanted to continue owning his own company, he would have to give it the same dedication and determination that he had devoted to his previous employers. So, he left his position at Delta to focus solely on his own asphalt sealcoating business.
As the owner of Aegis Asphalt Sealcoating, Brian embraces his responsibility for all company operations. Over the years, he has involved himself in all levels of construction management with an emphasis on developing and maintaining superb client relationships. At Aegis, Brian uses that expertise to work directly with business owners and design teams to formulate project goals and develop project strategies. He diligently monitors project performance to ensure compliance with the owner's expectations and his clients' quality standards.
Brian takes great pride in making Aegis Asphalt Sealcoating a high-quality resource for expert asphalt driveway repair, pavement maintenance, and asphalt striping in the Willamette Valley. Contact Aegis today to find out more about their professional asphalt services.