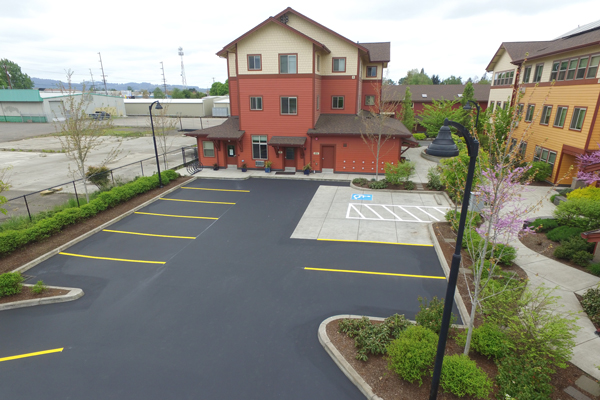 Did you know that unless it is premixed, asphalt sealer purchased from a manufacturer is not ready for application? To prepare the sealer, asphalt contractors should add water, silica sand and an additive for the highest results.
The best asphalt sealer
Aegis Asphalt Sealcoating uses Green Diamond sand mined in Riddle, Oregon. Green Diamond Sand is crushed, screened and rated in sieve sizes. Depending on the project, we will use a 30/60 or 30/50 aggregate size, which both show excellent results. Green Diamond sand is a hard, durable aggregate. Its green, shiny color adds a "sparkle" to the sealed surface.
Choosing an asphalt contractor who adds sand and additives to their sealer means better results for your asphalt surface. Some reasons for contractors not using sand and additives include:
They do not own the proper equipment
They do not have an underbuilt agitation system
They are not aware of the benefits
They are unable to mix sand in barrels manually
Benefits of sand
Asphalt sealer without sand is very slippery. People and vehicles will tend to slip on the pavement even with the slightest amount of water. It is not uncommon for lawsuits against property owners and asphalt contractors to arise in cases of injury due to pavement sealed without sand.
Increases solid content
Improves skid resistance\
Improves durability
Decreased sun glare
Competitive product
Improves appearance of minor deformities
Benefits of additives
Latex additive also has numerous benefits. Asphalt contractors should ask their sealer manufacturer or supplier for recommended additives based on the specific application.
Ability to use greater sand volumes due to suspension in tank and content in final product
Long-lasting results
Dries quickly
Oil and gas resistant
Darker color for improved aesthetics
Enables sealer to bond more to the pavement
Aegis provides asphalt sealcoating in Eugene, Springfield, Roseburg and Coos Bay. Contact our expert team to learn more about our services.