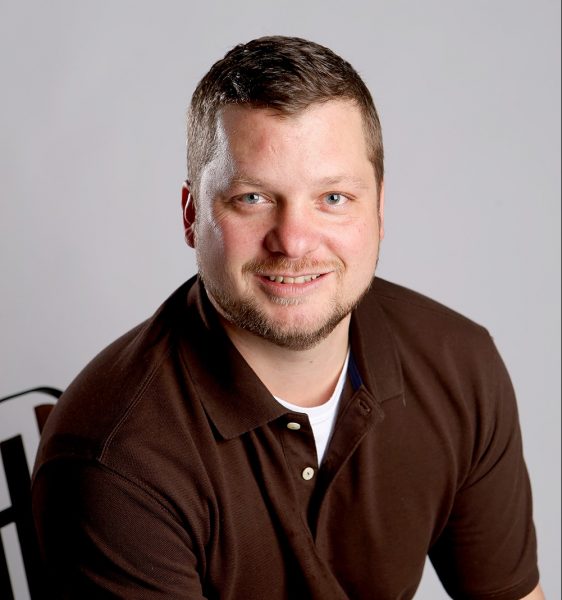 Brian Sugg, owner of Aegis Asphalt Sealcoating, is now officially a one-business man. As of November 2017, after six years of working both for himself and for Eugene construction company, Delta Construction Co., Brian has transitioned to working full time as owner and operations manager at Aegis Asphalt Sealcoating.
Experience in construction management
Originally from Empire, Oregon, Brian spent most of his summers in middle and high school working on asphalt paving projects with his grandfather in the Willamette Valley. This experience inspired Brian to further his knowledge of the asphalt trade in college, at Central Washington University. After graduating with a BS in Construction Management, Brian worked for construction companies in California and Oregon, gaining experience in all levels of construction management from projects like parking lot construction for Eugene 4J and Springfield School Districts and the multimillion-dollar NANO Science Building on the University of Oregon campus. Over the course of his career, Brian has remained focused on developing and maintaining client relationships and this remains one of his core values.
Owning his own asphalt sealcoating company
Brian has had a vision of opening his own company since he can remember, and in 2008, that vision was accomplished when he started Aegis Asphalt Sealcoating in Eugene, Oregon. After 10 years, the business is made up of seven skilled asphalt workers and contractors that have served more than 1,000 satisfied businesses and individuals in Lane County.
As owner and operations manager, Brian enjoys the freedom that owning his own business affords him. As the boss, he can approve an unlimited variety of projects, which allows him to serve more people in his community. Brian brings his experience managing multimillion-dollar projects to each new job, and his expertise allows him to educate his clients through every phase of the process.
Aegis Asphalt Sealcoating's mission is for every client to feel they have received the best value for their dollar. Brian backs that value with a personalization that is rare in the paving industry today. Every customer that calls Aegis is greeted by a real, knowledgeable employee who is ready to listen to their needs.
Want to know more?
Contact Aegis Asphalt & Sealcoating to learn more about their asphalt services, and read more about Brian's experience in the asphalt business by visiting his professional bio.