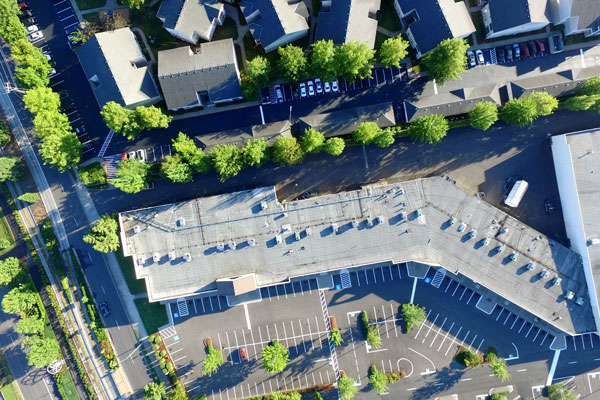 Slurry seal and sealcoating are both used to protect and enhance the value of asphalt surfaces. However, they should be used differently according to your needs and the condition of the pavement. Take a look at these FAQs to see which option is best for you.
1. What are the differences?
Slurry seal is a cold mix paving treatment containing aggregates, asphalt emulsion and water, while sealcoat is an emulsion containing liquid asphalt, mineral fillers and other additives. The main difference is that slurry seal has large aggregate.
2. When should I use slurry seal and sealcoat?
Slurry seal is ideal for deteriorated, heavily used roadways and streets where vehicles travel at high speeds. Sealcoat is best for low speed and traffic areas such as parking lots and driveways. Sealcoat with silica sand can be used to replace aggregate that has started to ravel.
3. How long does slurry seal and sealcoat last?
Longevity is affected by weather and amount of traffic. The industry recommends reapplying slurry seal every five to seven years and sealcoating every three to six years.
4. Which costs more?
Slurry seal typically costs twice the amount of seal coating because it is mixed on site and is applied using a large machine. Sealcoating can be sprayed or applied using a squeegee. We determine the best method that will provide the best application. Most often, we recommend squeegee application with a second coat of spray. With our Sealmaster 300SP Dual, we can use the same piece of equipment for both jobs, increasing our productivity and lowering the overall cost of the application.
5. Which option is more aesthetically pleasing?
This depends on what your needs are. Sealcoats provide a smoother finish because it contains smaller aggregates that help fill in minor surface imperfections more efficiently. Both options result in a rich black color.
If your pavement has major structural damage, neither slurry seal or seal coat will help. We recommend getting proper maintenance from a licensed asphalt contractor.
6. Which option is best for asphalt maintenance?
Generally, we recommend sealcoating to property managers and homeowners as a cost-effective way to extend the life of their pavement. Our professionals will evaluate the condition of your asphalt for the best maintenance option.
---
What Our Clients Say
"Incredibly professional! Live on a panhandle lot that shares a driveway with my neighbor who has Aegis sealcoat his end. The guys took the time to educate me on the proper way to make my driveway last longer while maintaining it to ensure I get many years out of it. I very much appreciate being sold what I need and what will hold up. Thanks Aegis! Looking forward to working with you again."
– Shannah Pettit
Aegis Asphalt offers sealcoating and asphalt maintenance in Eugene, Roseburg and Coos Bay. Contact us to learn more.